We Know Exterior Cleaning
From Pressure Washing to Roof Cleaning, We Have You Covered
JET Cleaning Services is a fully insured family-owned and operated exterior cleaning company.
WHy

You Should

ChooseJet Cleaning Services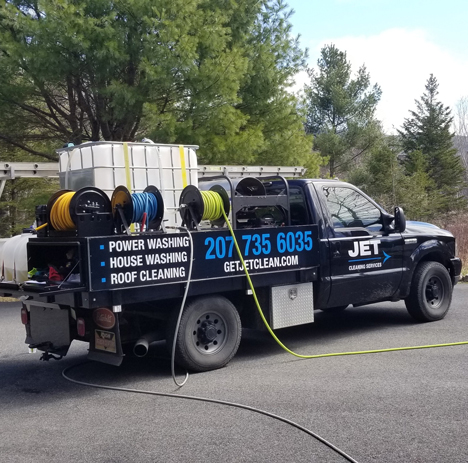 Family & Woman
Owned and Operated
JET Cleaning Services is a husband-and-wife team. Our small family-owned business is able to give you the customer service you deserve as well as a thorough, customizable experience. We have special training to work with our equipment as well as a wide knowledge of chemicals and cleaning products.
Fully Insured
Cleaning Company
JET Cleaning Services is fully licensed and insured. As homeowners ourselves, we understand the importance of a safe work environment when it comes to your home and working on your property. We are happy to send you proof of insurance before doing any work on your property.
Serving Downeast
and Central Maine
Conveniently located in Ellsworth, JET Cleaning Services is able to service Downeast Maine, the greater Bangor area, and some parts of central and mid-coast Maine. Whether you're looking for commercial, industrial, or residential cleaning, we can help!
We Use The Best
Equipment Available
JET Cleaning Services has specific commercial-grade equipment. Our Pressure Washer runs at 3500 psi with a volume of 8-10 GPM and weighs approximately 900 lbs. We use specialized systems when carrying out roof cleaning and delicate soft washing. Along with professional equipment, we are trained and experienced with commercial chemicals to achieve the best results.
House Washing
Do you have a dirty house? Over time, every home in Maine starts to grow moss, mildew, or lichen. These organic materials appear because of moisture and a lack of sunlight. House washing needs to be a regular part of your home's maintenance. Not only is this organic growth unsightly, but it can damage siding over time. At JET Cleaning Services, we have specialized equipment and training to wash your home effectively without damaging siding, leaving you a fresh, clean house to enjoy. Whether your siding is vinyl, cedar, pine, or aluminum, JET Cleaning Services can get the job done!
Read More

About House Washing
Roof Cleaning
Whether asphalt, cedar, or metal, rooves in Maine are subject to harsh weather conditions. These conditions are perfectly suited for the growth of organic material. Organic growth, such as moss, acts like a sponge absorbing water, resulting in a constantly damp roof. Moss also feeds on the lime in shingles, causing them to deteriorate and lift, leading to leaks in the roof and premature roof failure. For a fraction of the cost of a replacement, let us clean your roof and extend its life today.
Read More

About Roof Cleaning
Gutter Cleaning
Are your gutters full? Downspouts clogged? With our climate here in Maine, gutter cleaning is a part of your home's ongoing maintenance. The build-up of leaves and organic material in your gutters not only leads to premature failure due to added stress on the material but provides the perfect environment for mold and mildew to grow and spread around your home. At JET Cleaning Services, we can take the hassle out of this time-consuming, often dangerous task and have your gutters clean, clear, and functioning as designed.
Read More

About Gutter Cleaning
Deck Cleaning
Your deck is undoubtedly your favorite spot around the house during summer. Unfortunately, this area is also a favored spot for moss and mildew to grow. From regular cleaning to complete deck restoration, we can make your favorite spot even better!
Read More

About Deck Cleaning
Pressure Washing
Stubborn stains often need some added motivation. When it comes to pressure washing, we can not only use cold water, but our added diesel burner can produce water over 3000 psi at temperatures over 200◦f. Hard to remove stains like graffiti, oil, grease, and Gum are no match. Whether it is that grease-filled equipment, stained concrete, or old gum stuck to your walking surfaces, we have you covered.
Read More

About Pressure Washing
Before and After

Project Gallery